Messengers of the Passion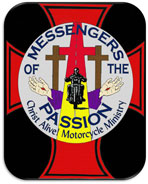 MESSENGERS OF THE PASSION
CHRIST ALIVE MOTORCYCLE MINISTRY
---
Our goals, while riding and enjoying our motorcycles, are:
To evangelize to the biker community as "messengers of Jesus Christ's passion for everyone."

To demonstrate through the way we ride and the way we live, that the anointing of the Holy Spirit is within us.

To demonstrate to everyone through our actions that we are blood bought Christians; although we may not be perfect, we strive for perfection.
Our mission is to "Never give up on the lost and suffering! We don't want anyone left behind." When we ride and fellowship we will not condemn any bikers, but show the compassion of Jesus Christ, the Son of the Living God to all. We will never give up on anyone who wants, needs, or desires the Lord's salvation.
---
For more information on this ministry and how to get connected, please contact Elder Jim Elston at
elderjim@att.net